Hooray I am joining in again with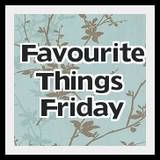 Favourite Things Friday....
I have to admit that this is one of my favourite things....
My iphone. I won't go so far as to say I couldn't live without it (I would hate to try) but this little beauty has been constantly with me since purchase in late 2010. (Thank you Billy) I went on a holiday to Sydney and this time I didn't take a laptop or my camera, I just took my iphone. I was able to keep in contact thru my emails, I could read and comment (if I was really inclined to use the small keys) on all the blogs I follow and I even took some pretty amazing photos.
In fact the photos have amazed me. Remember the gold beetle....iphone, and the small crab....iphone. It really is a nice little camera and I have used it more than my big one lately for all my blog photos. Just so handy.
As a row counter for my knitting, a game player for the boys in times of needed distraction, an alarm clock, for my music and audiobooks, keeping in touch with friends thru facebook, for speedy texting and sending MMS and much, much more....it does it all....
I have even made a ripper felted pouch for it, the needle felted symbol is for 'Tiger' my chinese birth sign!
So even though I am not really a gadget guru I have to say that I have been more than impressed with my iphone....wouldn't be without it :-)